CDMO
我公司拥有水针制剂及固体制剂的委托加工(CDMO)平台。公司可提供包括药品研发、中试放大、工艺验证、商业化生产等"一站式"服务。
KIVIPharm has a CDMO platform for water injection and oral solid dosage. Our company canprovide "one-stop" services including drug development, pilot scale-up, process validation, and commercial production.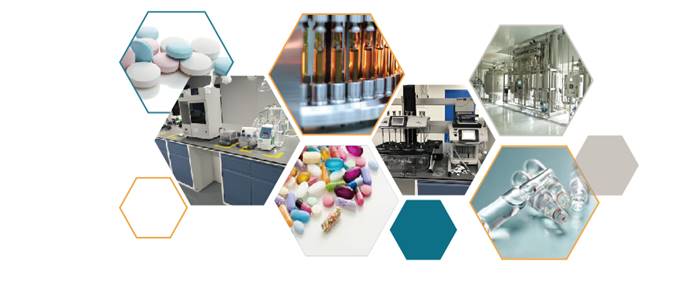 凯威CDMO优势:
Our strengths:
1、水针车间配备专利级全无菌灌装系统
SVP plant has a patented full aseptic filling system
2、水针车间可生产微含量小水针制剂
SVP plant can produce SVPs of tiny content
3、高附加值的固体制剂生产车间
Oral solid plant can produce high value-added oral solids
4、公斤级的API生产车间
APIs plant can produce APIs within 20kg
小容量注射剂车间
公司有近40年的专业小容量安瓿瓶水针注射剂的生产经验。水针车间拥有三条最终灭菌生产线和一条非最终灭菌生产线,可生产从1ml-20ml规格不等的各种小容量注射剂。车间生产线采用国内先进的楚天联动线,注射用水采用RO2+EDI系统,生产能力为每小时8吨。新配置的专利级全无菌制剂灌装系统可有效保证制剂真正意义上无菌稳定生产。
Our SVP Plant has 40 years of operational excellence. SVP products present in more than 50 countries. The SVP Plant has three terminal sterilizing lines and one non-terminal sterilizing line. The strength of the volume of our products ranging from 1ml to 20ml. The workshop production line adopts the most advanced Truking Automatic Inspection linkage line in China. RO2+EDI is used for an injection water system which capacity is 8 tons per hour. Patented full aseptic filling system which can effectively ensure aseptic and stable production of the preparation.
※在线清洗灭菌功能 (C/SIP)
Online cleaning and sterilization function
实现了灌装泵、灌装针和连接管路的在线清洗,无需拆卸,程序自动控制。有效控制灌装系统内的微生物和不溶性微粒残留。
The filling pump, filling needle and connecting pipes can be cleaned on-line without disassembly. The system can control automatic and it also can control the vestigital of microorganism and insoluble particle effectively
※柱塞式隔膜泵
Plunger Diaphragm Pump
进出液开关阀为截至式隔膜阀,开关彻底,保证灌装过程中设定的灌装进出量的精度和稳定性。
The switch of the pump can control the flow of the liquid accurately. so, the stability and precision of the filling volume can be well controlled
※聚四氟乙烯(PTFE)连接软管
PTFE Connecting Pipes
该材质的物理、化学稳定性好,与FDA认证的很多化学介质没有相容性反应。有效避免了管道溶出物对制剂的影响。
The physical and chemical stability of the material of the pipes is good. There is no compatible reaction with the medium which were certificated by FDA. It can effectively avoid the influence of pipe dissolution on the preparation.
水针车间不仅可以保证制剂的全无菌生产,而且可以做到精确到微克级的高活性低微量制剂生产。
In brief, we can guarantee both full aseptic production and accurate preparation to the microgram level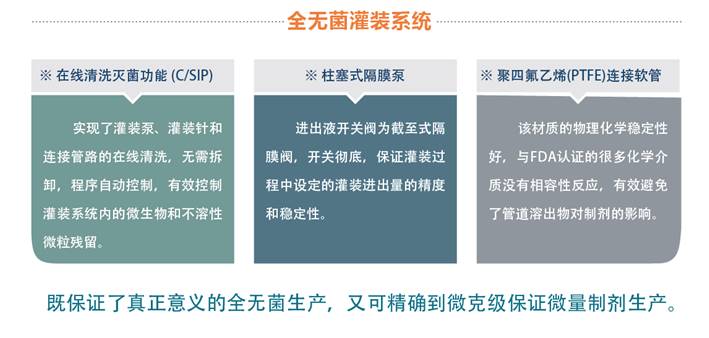 固体制剂车间
Camfield—OSD Plant
OSD车间按照FDA和欧盟标准设计建设,设备选用国内先进的山东新马产品。可实现湿法制粒、干燥、制微丸(预留)、干法制粒、总混、压片(含微片)、包衣、胶囊充填、颗粒剂(预留)、内包(瓶装/铝塑/铝铝)、外包等功能;定位为规模化品种中试和贵细药品的生产。
The new OSD workshop includes the first and second phase production lines. The first phase line is for pilot scale-up products or expensive & small size products, which can achieve multi-functions such as wet & dry granulation, drying, mini-pills (for future use), blending, tablets compression (mini-tablets included), coating, capsules filling, granules (for future use), primary & secondary packaging (bottling/Al-Plastic/Al-Al) etc.. the annual production capacity is 300 million tablets/capsules.

原料药车间
Camfield—API Plant
原料药车间有南、北、东三条生产线,其中北线和东线按照欧盟和FDA标准建立,能生产几克至二十公斤批量的API;南线能进行普通化学中间体合成。
API Plant has three product line located respectively on first, second, and third line. The first and second line were established according to EU and FDA requirements. The third line can accomplish the synthesis of ordinary chemical intermediates. Our API Plant can produce APIs within A few grams to twenty kilos.
CDMO业务:
联系电话:0313-5906965
吴经理(Manager Wu):18830302838
范经理(Manager Fan):15613186982